Immigrant City: Then and Now (2008)
An Exhibition at the Somerville Museum
Urban Borderlands ANT 183, Fall 2007
Jennifer Burtner, Department of Anthropology, Tufts University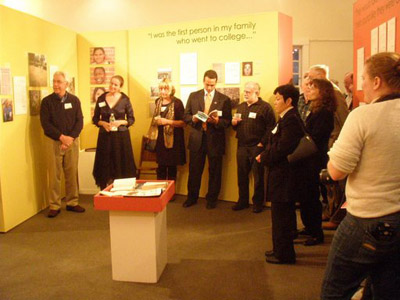 Community and learning resources created in Urban Borderlands and now available to the public: The exhibition "Immigrant City: Then and Now" (The Somerville Museum, now extended until the end of February 2008) presents narratives of Somerville immigrants in their own words through interviews, photographs, original artwork, maps, historical prints and engravings. The show was presented to the community through numerous public events and educational forums and was open to the public for three months (Oct-Dec 2007). The product of years of interdisciplinary research and partnerships between Tufts, local nongovernmental organizations and Massachusetts public schools, Tufts faculty worked with undergraduates to make sure that the stories and materials collected were not forgotten once the show was de-installed.
The result was a five module course curriculum designed for Greater Boston public school teachers to help them integrate local history and knowledge into the broader U.S. context and existing curriculum frameworks (Social Science/ Humanities, History, Political Science).
Each module focuses on immigration-related themes: Homeland and the Journey; Education and Learning English; Making a Living; Culture and Identity; Then & Now – Dreams and Reflections. The companion resource CD Rom contains: a full listing of quotes from interviews conducted with first, second and third generation immigrants; photographs taken by Somerville school children and from the family archives of interviewees; Powerpoint presentations and background papers for instructors on each theme; module specific activities for small and large groups; homework assignments and a filmography.