The Art of Mosaic (2007 and 2009)
Traditional and Contemporary Mosaic Art
by New England Artists


Exhibition Curators:
Bill Buckingham and Margaret Ryan
Mosaic is one of the oldest and enduring art forms. It isalive with innovation today as it was millennia ago. Mosaic artists push the medium in new directions manipulating traditional and modern materials to make statements that engage, provoke, and delight the eye and mind. The Somerville Museum held exhibits of mosaic art in 2007 and 2009.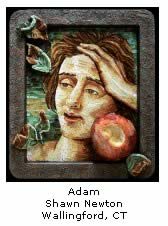 The Art of Mosaic gathers for the first time in the Boston area selected works of mosaic from artists through out New England. The exhibition includes examples of fine art pieces, architectural installations, as well as decorative and functional art objects. The Somerville Museum hosts The Art of Mosaic. Somerville has established itself as an artist friendly city within the greater Boston area. Through Open Studios, Art Festivals, an active Arts Council and the Somerville Museum artists are provided with opportunities to create, exhibit, educate and lead as an art community.
In keeping with the Museum's mission to feature Somerville based artists, the exhibition dedicates the west gallery to mosaic art in Somerville with photographs of installations and actual mosaics by local artists. The larger grand gallery, naturally lit by two stories of windows, showcases fifty New England artists. Mosaics unite disparate elements of design, materials and technique to create works of timeless beauty in which the whole is greater than the sum of its parts. Join us! See for yourself The Art of Mosaic!
The Exhibition is free and open to the public. There will be mosaic demonstrations by participating artists at 1 and 3 pm on Saturdays. Audience members will be given theopportunity to see artists in action as they create with the materials of marble, vitreous glass, Venetian smalti glass, stone, ceramic, broken plates (picassiette), gem stones, found objectsand more.Thursday, September 13 at 7 pm, Somerville resident and Objects Conservator at the Worcester Art Museum, Paula Artal-Isbrand, will present a free Lecture and visual presentation on the ancient Antioch Mosaics permanently installed at the Worcester Art Museum.
Other special events include poetry and prose readings by the Bagel Bards on Thursday, September 27 at 7 pm (free) and Sunday 4 pm music concerts of world folk music with Sue Robbins and Michael Cicone (September 23rd) and jazz music with Ruthie Ristich and Friends (September 30th). The music concerts are $15.00 per person. The Somerville Library at 79 Highland Ave. will show a film about Antonio Gaudi , his mosaics and architecture (free). Call the library at 617-623-5000 for dates and times.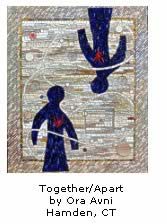 THE ART OF MOSAIC - Exhibition Catalogs

Catalogs from the exhibitions are available by clicking on the links below: